Post by glactus on Sept 24, 2011 0:13:35 GMT
"Of all the sciences we know, of all the things we do, of all the books we read, of all the subjects we study in this never - ending search for knowledge, Astronomy stands supreme. Nothing will touch it by a thousand times for it comes, not from the vibrations of this world, but the whispers of the cosmos. Within its bounds is the twelfth dimension, the road to the stars and the secret of life."
Of men and Galaxies - The road to the stars
If you choose to be involved in Astronomy it will change the way you live, mould you into a humble person of no importance, for you will realize how insignificant you really are in the vastness of space and time. It will make you more tolerant towards others, less forceful, less demanding, and allow you to live longer. Be involed in Astronomy and that is what the Universe will do to you.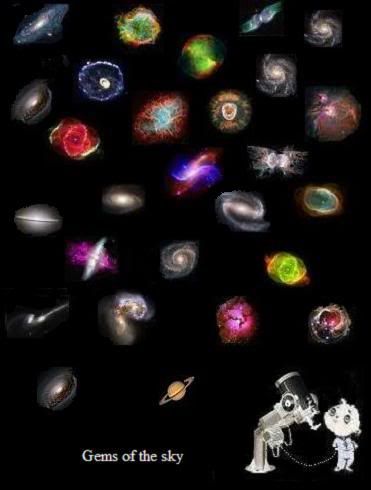 Space art - Gems of the sky
Astronomy is one of the oldest sciences. Prehistoric cultures left behind astronomical artifacts such as the Egyptian monuments, Nubian monuments and Stonehenge, and early civilizations such as the Babylonians, Greeks, Chinese, Indians, and Maya performed methodical observations of the night sky. However, the invention of the telescope was required before astronomy was able to develop into a modern science.
The Meade 16 inch LX 200 telescope
During the 20th century, the field of professional astronomy split into observational and theoretical branches. Observational astronomy is focused on acquiring data from observations of celestial objects, which is then analyzed using basic principles of physics. Theoretical astronomy is oriented towards the development of computer or analytical models to describe astronomical objects and phenomena. The two fields complement each other, with theoretical astronomy seeking to explain the observational results, and observations being used to confirm theoretical results.
Space art - The Astronomy club looking at the night sky
Amateur astronomers have contributed to many important astronomical discoveries, and astronomy is one of the few sciences where amateurs can still play an active role, especially in the discovery and observation of transient phenomena.
Ancient astronomy is not to be confused with astrology, the belief system which claims that human affairs are correlated with the positions of celestial objects. Although the two fields share a common origin and a part of their methods (namely, the use of ephemerides), they are now entirely distinct
To see videos of the Universe and the expanding Universe just click on the links below. Both Have sound.
science.discovery.com/videos/100-greatest-discoveries-shorts-expanding-universe.html
www.youtube.com/watch?feature=player_detailpage&v=xfbjvWjrnSc
Credits: These are non copywrite images
Special credit: The Meade instrument company
Text by Wikipedia/Glactus
Video by Science discovery and Youtube
Space art by Glactus