Post by glactus on May 20, 2011 5:30:18 GMT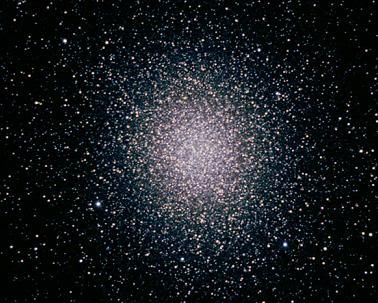 Omega Centauri
Omega Centauri or NGC 5139 is a globular cluster in the constellation of Centaurus, discovered by Edmond Halley in 1677 who listed it as a nebula. The cluster had been listed in Ptolemy's catalog 2000 years ago as a star. Lacaille included it in his catalog as number I.5. It was first recognized as a globular cluster by the English astronomer John William Herschel in the 1830s.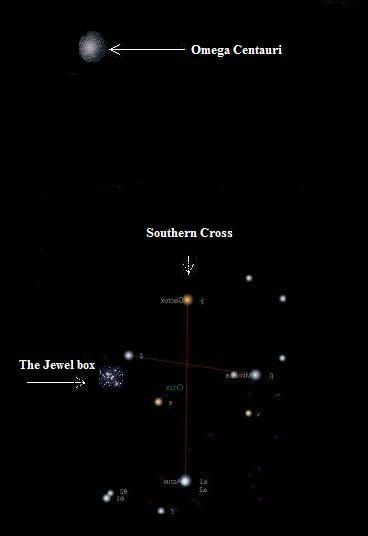 Position of both clusters
Orbiting the Milky Way, Omega Centauri is both the brightest and the largest known globular cluster associated with our galaxy and is so different from other galactic globular clusters that it is thought to be of different origin. The cluster is located about 15,800 light-years from Earth and contains several million Population II stars. Apparent magnitude is 3.7. The stars in its center are so crowded that they are estimated to average only 0.1 light years away from each other. It is about 12 billion years old.
Omega Centauri is one of the few globular clusters visible to the naked eye and appears about as large as the full Moon.
The Jewel box
The Jewel Box is an open cluster in the constellation of Crux. It is one of the finest open clusters discovered by Nicolas Louis de Lacaille when he was in South Africa during 1751–1752. This cluster is one of the youngest known, with an estimated age of only 7.1 million years. It has an apparent magnitude of 4.2, and is located 6,440 light years from Earth and contains around 100 stars.
This famous group of young bright stars was named the Jewel Box from its description by Sir John Herschel as "a casket of variously coloured precious stones," which refers to its appearance in the telescope. The bright orange star Kappa Crucis contrasts strongly against its predominantly blue, hot companions. Kappa Crucis is a very large (hence very luminous) young star in its red supergiant stage, which paradoxically indicates that its life is drawing to a close. The cluster looks like a star to the unaided eye and appears close to the easternmost star of the Southern Cross, (Beta Crucis), so is only visible from southern latitudes.

Omega Centauri
Credits: These are NASA/Hubble images
Text be Wukepedia